Grey's Anatomy in an Alternate Reality
Ellis Grey never had alzhiemers, Meredith is shiny and happy, Alex is a geek, Bailey is shy and quiet, Derek is still married to Addison and much, much more.
Recently a special episode of Grey's aired on Australian screens which took all the characters into a world where everything was different to how we know our favourite doctors today.
Meredith puts Zola to bed and lays down herself to go to sleep next to her husband. In the very next scene she waking up, hearing her mother calling her and she comes down the stairs dressed in a pink sweater with very straight hair and a big smile on her face. Not the dark and twisty Meredith we all know and love. Ellis Grey is married to Richard Webber and Meredith is now Meredith Webber, instead of Meredith Grey.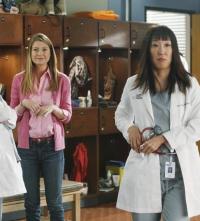 Derek is still the chief of neuro and Addison is pregnant, she also wears horrid red lipstick. It would seem as their marriage is not happy. As she and Derek continue to bicker throughout the episode. Callie and Owen are married and have three kids, however Owen seems to still struggle with his PTSD issues and is seen to be confiding in Cristina. Cristina is a loner and all the other residents seems to hate her and blame her for Dr Burke leaving.
Alex is a nerd and it would seem that he is engaged to Meredith. In the very first scenes Meredith is flashing around a big ring to the residents. April is Meredith's best friend and it would seem that Meredith and Cristina do not get along at all. From my point of view it seemed to me that Meredith wanted to follow her mother into General Surgery, however Ellis seemed to be pushing Meredith towards a career in Cardio.
Izzie and George's names get mentioned but only in a negative way, George failing the intern test and was never seen again and Izzie stealing the heart. Meredith went to her mother and turned her in, which is not what Meredith would have done in Season 2.
Miranda Bailey is a complete opposite of what we know of her today, complete with dreadlocks and a meek and mild personality and Charles, the Mercy West resident who died in Season 6 was there and very much besotted with April. Arizona is the bubbly, happy pediatric surgeon we have always known, however she has Callie pining after her, even though Callie seems to be happily married to Owen and totally in love with her three children. Teddy was nowhere to be seen as Callie is the cardiac surgeon, however cardio was not her first choice, she tells Bailey that she loves ortho. Teddy is absent, however she is referred to as Owen's friend in Iraq. Callie is under the impression that Teddy is a male buddy of Owen, not a beautiful blonde, desert barbie.
The best part of the episode for me was Lexie turning up with dreadlocks and a drug habit that she has overdosed from, and Jackson is in charge of her case. It was really a different look for Chyler Leigh and I loved the transformation. She reveals that her sister works there, but does not reveal who that is.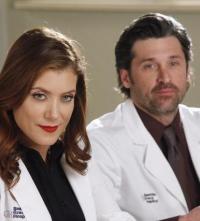 However as the episode went on it was clear to me that everything that was different about their alternate reality lives would eventually revert to what we have seen already on Grey's. Ellis Grey was no different without alzhiemers, than I remember her in season. When Meredith was upset about catching Alex with April in the middle of you know what....her assumption was that Meredith was upset about the heart surgery and Cristina stepping in and not letting her finish. Perhaps we are meant to assume that having Richard as her father would've made thing different, as he did not seem to misunderstand her.
I totally loved the end when Mark turns up with Lexie in his arms and leaves her with the docs; Jackson, Cristina and Meredith to work on. Meredith picks up the chart and for one minute I wondered if she realised who it was she was working on. Cristina and Meredith performed as a team to save Lexie's life and then ended up doing tequila shots at Joe's bar. Meredith even had a conversation with Derek at the end and the girl in a bar stuff came up again. Talk about ending the episode with what was meant to be. Cristina seems to have a close connection to Owen, which is not surprising.
Mark on the other hand did not stick around to see if Lexie lived or not and went in search of Addison. He is there changing his bloody shirt when Derek arrives. Addison tells Derek that the baby is Mark's. What's the bet we see Kate Walsh back on Grey's sometime in the next two years for longer than a cross-over episode. Pure speculation here, but it would be good to have Addison back.
The upshot is that this was an experiment worth doing as many fans really liked seeing their characters so out of character. Given that the last experiment was the musical episode and that did not go down well for many reasons, although I will say I loved it, because for the most part a lot of the music they used in that episode was what made me fall in love with Grey's Anatomy in the first place. This was different and fun, but I was looking forward to getting back to the business of telling the characters stories in the real world.
What did you think of If/Then? Was it better than Song Beneath the Song? Sound off in the comments.
To read more about Grey's Anatomy, Please visit me at http://janelle-coulton.suite101.com/
Copyright © 2012 Janelle Coulton