Much Loved Character Leaves Grey's Forever
Warning: The following contains Spoilers on the Season 8 Finale. If you have not watched it and do not want to be spoiled then do not read any further.
Cast of Grey's Anatomy - Photo by Ajmass
Probably the most hyped Season Finales in Grey's Anatomy history has just gone to air and many are saying that it did not live up to their expectations. Given all the hype and the dead give-away promo of the first six minutes of the finale, I am really not surprised. In the first sixteen minutes of the episode, Lexie Grey; played by Chyler Leigh succumbed to her very critical injuries and died. Mark was by her side the entire time and told Lexie what she had needed to hear for the last year; that he loved her and would always love her and when she finally passed they both said the words "Meant to be." Lexie passed with a tear rolling down her cheek. Chyler Leigh really brought home the death scene; it was touching and emotional and so well acted and I had no issue with the fact that she passed in the first part of episode. However many of the fans did and wanted Meredith there to say goodbye, but I felt as though Mark and Lexie deserved their private moment and so did the Mark and Lexie fans.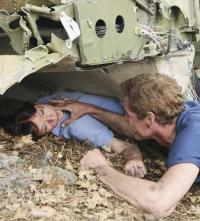 Many fans have since gone on a rampage; some have created petitions to get the character of Lexie back on. Some fans have abused and threatened the creator of the show; Shonda Rhimes, and some have point blank, refused to watch the show anymore. Knee jerk reaction; or is it. Will Shonda lose viewers due to Lexie dying. Mark and Lexie were a popular pairing with fans, and that possibility is gone forever according to Shonda. She was quoted as saying that she does not think we will ever see Lexie again and that Chyler Leigh has left the show. So it would seem that Shonda had little choice but to kill off the character of Lexie. I don't really see how the fans would be see Lexie leaving Seattle Grace in the middle of her residency as a plausible storyline.
RIP Little Grey - Photo from TVFanatic
Much speculation has also been made about the fact that Chyler Leigh has refused to comment on her departure. Shonda has said it was personal and that she wants to respect Chyler's privacy which I understand but it does create speculation when the fans don't get to hear her side of it. Perhaps she is taking a leaf out of Sandra Oh's book? Sandra Oh rarely talks to the media and when she does she is extremely professional and never reveals anything about behind the scenes' happenings. Fans have debated this back and forth on message boards over the last week as to why Chyler has not spoken. TWOP and the GreysAnatomyABC boards have been rife with speculation and rumours all week since the finale went to air. Whether or not Chyler chooses to give a statement or not, that is not the important issue and Shonda Rhimes pointed out in her the day after the finale that some fans missed the point of episode. "They are still out there." She is quoted as saying. "When we return in Season 9, they are all still stranded in the wilderness." She also went onto say that fans cannot expect that everyone will be okay, leaving speculation that maybe we may see another death in September when Season 9 returns.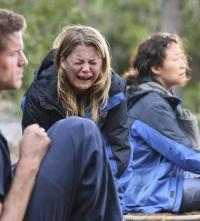 Meredith Learns Lexie is Dead - Photo from TVFanatic
Mark, Arizona and Derek all seem to be seriously, if not fatally injured and time could work against these three. It could also work out that Meredith and Cristina have injuries they are not aware of. At the end of the episode Derek murmurs something that sounded like 'rose' or
'boats' or it could be 'this blows.' If I had to hazard a guess it would be boats, boats is the most likely, unless Derek has brain damage, why on earth would he mention Rose; his part-time girl friend in between breaking up and getting back together with Meredith. "This blows" could also be a possibility; like Patrick speaking the truth about his character...ha ha! However from what I remember from the spoilers they are in the same area as when he and Cristina went fishing during the PTSD story arc; perhaps he talking about boats on the lake or stealing a boat to return to safety. Who knows? We have all summer (winter in my case) to speculate about Derek's mumblings.
Meanwhile back at Seattle Grace Mercy Death (so true) we are shown that everyone there is getting on with life and have no idea what has happened to Derek, Meredith, Cristina, Arizona, Mark and Lexie. Owen has his assistant divert all his calls to voicemail, surely this is a big setup for him to get his ass kicked for not checking his voicemail? Are we really meant to believe that the Boise hospital would not have found another way to contact Owen or someone else who could notify Owen. That felt like a total 'crock of shit.' Seems to me there was a search launched, hence the helicopter that flew over. And the moment the plane lost contact with the radar, air traffic control etcetera, the airport from where they took off and possibly where they we supposed to land would have initiated a search. But in my mind, Shonda has created an arc where someone will blame poor Owen. Between him and Alex; I have to say I am so sick of seeing these two guys get their asses kicked. Owen's character has been basically ruined for me, probably since the special "What is it About Men?" episode.
Anyway moving on; I was bored to tears by most of the returning to the hospital stuff, especially April and her despair over giving up her virginity. Gotta say; I'm over this story arc. However, I will say that I'm happy about Jackson and April getting together, I'm glad she did not end up with Alex. I hope Jackson really does leave, but that's wishful thinking on my part. He, April, Teddy (who was the other surprise departure) are not needed anymore. Teddy and Owen's scenes when he fired her to force her to take the chief of MedCom position were really good, and the scene where they crossed between the crash site and the trauma room while both doing a procedure. I liked that. Callies pep talk to April, Alex and Jackson about Webber's dinner was awesome and I loved it when she slapped the chips out of Alex's hand, so funny! Her speech was true, she has definitely seen some crappy stuff in life and has come out the other side. April's little dramas are nothing. Apart from those things, going back and forth between each location was annoying for me. I also loved the reference to George O'Malley via the opening scene, Callie and Cristina.
For a Season Finale that has been compared to Lost on SOW, which could well have been a 'shout out' given Lost was an ABC show; this finale was not one of Shonda's best in my opinion. Shonda said that the writers were joking in the writers' room at the time of the table-reading, that if this were the Series Finale they were penning, it would be good to go. Well speaking from the point of view of a lot of fans and myself, I would think fans would be extremely upset if this had been the end of Grey's Anatomy. Personally I would have seen this as lazy not to wrap up everyone's storyline. The other beef I had was; whoever's idea it was that it would be okay with contract negotiations to interfere with the writing of the show was a moron. Sometimes these things cannot be helped; like when Katie Heigl left. But couldn't these negotiations have taken place before the season premiere in September last year? If someone out there can answer this, please post in the comments. It would seem this is pattern at Shondaland/ABC; the writing is dictated by what is happening off screen with the cast. Not the first time this has happened is all I'm saying.
Why does this keep happening?
So now we wait and speculate some more. Contract negotiations were successful with the original six stars and as far as we know they are all returning. I only wish we weren't told that before the finale went to air as it really narrowed down the list of who was going to die in the episode. However the news was leaked, and I'm guessing no-one knows by whom and it ruined it for many fans. Not knowing if the original cast have re-signed was part of the drama. Is it possible Shonda or ABC were worried that viewers might not watch because many believed that an original was leaving? Did they chicken out and leak it on purpose? I really have to wonder about that; and if that's the case then I think it was a big mistake. They could have gotten 15 millions viewers if they had kept it quiet in my opinion. Perhaps that is a big assumption on my part, but the suspense was kind of ruined for me.
Season 9 will back in September; around four months from now. Will someone else die in the Season 9 premiere? If so, who bites it? Will it be Mark? His storyline will be light now Lexie has gone. If April stays, how will Shonda explain that? She can't just replace Lexie as some fans are suggesting and do her fifth year of residency again. She is now an attending; just not board certified. I suppose she could work as an ER doc, but if Shonda has cuts to make, why not get rid of April? In any case it will be interesting to see how this all plays out.
So what do you think? Was it the best Season finale ever of Grey's? Discuss in the comments or connect with Twitter and Facebook.
Farewell Little Grey - Photo from Wetpaint
Sources:
Shonda Rhimes on Twitter
TVFanatic Photo Gallery
SeriouslyOMGWTF
ABCGrey'sAnatomy
Wetpaint
To read more about Grey's Anatomy, Please visit me at
http://janelle-coulton.suite101.com/
Copyright © 2012 Janelle Coulton