Well I've been away for a bit getting my life sorted out and have missed quite a bit of Grey's Anatomy, which is something I never do (missing Grey's is criminal in my warped mind). Having watched back to back episodes from "Second Opinion" to "Bad Blood," I realised that I had missed a lot of drama and a great part of that drama was very good.
Highs and Lows
The highlight for me is Cristina returning. It was unexpected and awesome to see her show up at Seattle Grace. I had imagined that she would hide out in Minnesota for the better part of the season, but she returned. The death of her mentor was too much obviously. The low light was April and Jackson; I really don't care about this couple and wish Shonda would stop shoving them down our throat. I like the interns better than April and Jackson, and I really don't like them much. Cristina and Owen are divorced and still together; behaving like love struck teenagers; this story made me happy. The writers and Shonda found a way to keep it real and keep the CrisOwen fan base happy, but fans will soon be asking where it's all going. No such thing as happily ever after in Shonda's world, so you can guarantee that there is more drama to come.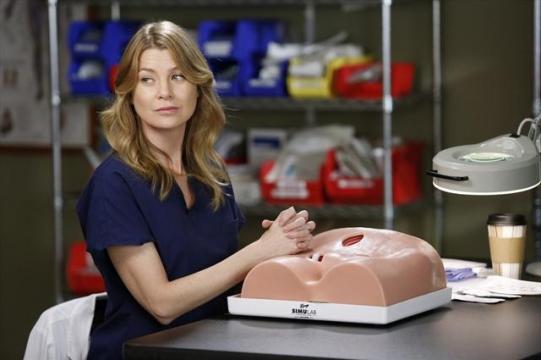 The victims of the plane crash each were awarded fifteen million dollars, which is huge and somewhat expected once we learned that the airline company had questionable safety issues. However the insurance company found a loophole and refused to pay the damages so the buck now passed to the hospital's hip pocket. It was revealed that Seattle Grace would be sold to the highest bidder; and to make that sale happen the ER would have to be closed. Derek and April stayed up all night trying to cut costs to make the ER fit into the budget, however the consultant that was brought in to save Seattle Grace said that closing the ER would make the hospital more attractive to the right buyer.
Now I haven't watched the latest episodes from the US; but I have heard rumours about the doctors using their settlement to buy Seattle Grace. Interesting times ahead, in any case.
Bailey finally ties the knot with Ben after getting caught up in a very risky surgery on Dr Webber's wife, Adele. She eventually makes it to the ceremony five hours late, and she and Ben make their union official. Dr Webber shows up later on at the wedding to wish Bailey well, and does not tell her that Adele has passed away from a massive heart attack, a complication from having lost so much blood during the stomach surgery. Webber has a very hard time grieving Adele, unable to forgive himself for not being there as much as he should have.
He goes as far as to push Catherine Avery away because he feels he does not deserve the support of his close friends. He stops operating for a while, until Meredith drags him back into surgery and reminds him of what he's missing.
Derek gets full use of his hand back, thanks to Callie and his faith in her skills. He pushes Callie to look into every option available to them, and they finally come up with something they both believe will work. A nerve transfer; however someone in Derek's family must donate the nerve, as waiting for a cadaver will take too long. Derek's sister Lizzie arrives in Seattle and agrees to do the surgery. They later find out the they will need two nerves from both legs and Derek refuses to go through with it. However Lizzie is having none of that, and pushes Derek to let her donate the nerves.
Meredith and Lizzie go Head to Head
In the mean time she and Meredith have words about how they never see her and Zola. Meredith goes on the defensive and talks about how busy she and Derek are. Lizzie will not accept that. Meredith tells her that it is hard for her as she never had a normal family. They talk later on after the surgery and Meredith promises to stay in touch, she also shares a secret with Lizzie that she is expecting a baby and only she and Derek know, and to please not blab to the family as she is only eight weeks gone.
So Derek makes it back to the OR again just in time for a really tricky surgery; that he ends up pulling off flawlessly. Dr Derek Shepherd is back. I still feel as though Derek is blaming Owen for the crash, given that Owen signed off on the change of company for transporting doctors to other medical facilities. However, Owen knew nothing about the plane company and was not required to research their safety records and histories. It was just a signature that approved a certain budget for transportation costs. Have we seen the last of the rift between Owen and Derek. On a higher note; Meredith also conquers her fear of flying and gets on a plane to go get a liver for an emergency transplant surgery.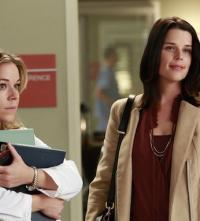 Neve Campbell as Lizzie; Derek's sister
So far so good. Grey's is thirteen episodes down and doing okay so far for Season 9. The writing is good and I hope by the time I've watched the next two episodes I still feel the same way. Season Nine has been better than Season Eight in my opinion; even though we are missing Mark, Lexie and Teddy, it seems as though we are getting better stories for the main characters. Especially Meredith and Derek; I am pretty happy with how much focus we have had with them this season and Cristina too. Although I would love more Cristina, I could watch Sandra Oh all day. She is brilliant. As much as I do miss Mark and Lexie, the show is still good.
Anyway, as always catch up with me on Facebook or Twitter should you wish to comment or disagree or whatever. Or sound off in the comments box provided here. Thanks for reading and I also apologise for the big gap between posts.
To read more articles visit: Janelle Coulton; Freelance Writer
For more gossip on Grey's Anatomy visit Suite 101
Season 8 Is Now Available
Get Your Copy Today
Copyright © 2012 Janelle Coulton