This episode was meant to be the Season 2 premiere; however in the US only nine episodes were shown in Season 1, beginning March 27, 2005. As for Australia, I really can't remember. I did not start watching Grey's Anatomy on a regular basis until near the end of Season 2.
Meredith has to Face the Reality
"Into You Like A Train," opens with Meredith sitting at Joe's bar drinking tequila shots, waiting for Derek; whom she begged to choose her and love her. As time goes on, and Meredith gets more inebriated, everyone's pagers' start beeping. There has been a massive train accident and multiple casulties are expected. Let's face it, Meredith is in denial. It was so obvious to me that Derek would choose Addison, especially when he debated over signing the divorce papers. This episode was about facing up to the reality of Derek, which means Derek will not just walk away from his marriage, he needs to explore the possibility of fixing things before throwing away his eleven year marriage.
Meredith narrates:

"In general, people can be categorized in one of two ways. Those who love surprises and those who don't. I don't. I've never met a surgeon that enjoys a surprise, because as surgeons, we like to be in the know. We have to be in the know, because when we aren't, people die and lawsuits happen. Okay, I think I'm rambling. My point, actually, and I do have one, has nothing to do with surprises or death or lawsuits, or even surgeons. My point is that whoever said 'What you don't know can't hurt you,' was a complete and total moron. Because for most people I know, not knowing is the worst feeling in the world." [sees passengers impaled on metal pole] "Okay, fine. Maybe the second worst."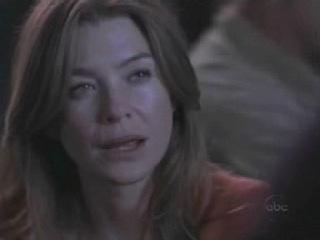 Meredith feeling drunk and pathetic
Derek does show up and Joe informs him that he's late. Meredith is long gone; having been paged earlier. She is forced to stand aside and watch her colleagues work as she is rather drunk; and at one point suggests to Bailey that perhaps she should go home.
Have You Seen A Severed Leg?
Christina spends the entire night running around searching for a missing leg; at once stage trying to enlist Burkes help. Alex eventually finds the leg; and steals the surgery that Christina was hoping to assist on once she had found the leg. Izzie finds herself working for Addison; and Addison is impressed by Izzie's aptitude for her specialty. She tells Izzie this and then asks her how important it is for Izzie to hate her. Izzie is silent, she does not know what to say. Addison then tells her she is sticking around for a while.