Last year I blogged about this wedding, however I kept the information to a minimum and the photos as I did not wish to ruin it for people living in countries that had not seen the episode. However I think fans are wishing Shonda and her crew had cut down on the amount of stories they told in this episode.
Callie and Arizona's Wedding
There were actually two weddings in this episode, Callie and Arizona's traditional white wedding, both ladies looking absolutely beautiful. The wedding was planned to take place in a lovely old church with a minister as Callie is very much catholic, she moved heaven and earth so to speak to find a minister who would marry them. She also had an exact copy of the same veil made that her mother wore on her wedding day.
At the beginning of the episode Callie and Arizona are sitting down to dinner with their respective parents. It is obvious from the start that Callie's mother has a problem with the life her daughter has chosen. How could you not want to hold your grandbaby? Oh dear; problem brewing here. Callie's father could not get enough of his grandchild, and neither could Arizona's parents. The only person not on board with their wedding, and prospective life together and their baby Sofia was Callie's mother. And it came out later on that Callie's mum was a lawyer and her secretary was gay. It took awhile for Callie's father to get on board and I would have hoped that her mother would have been supportive too, but it was not to be and I felt really sorry for Callie.
Callie shows her Mother the veil she had made
Callie almost died a few months earlier in that horrible car crash. Where in the heck was her judgemental mother then? Where in the heck were any of them for that matter? Why were they not there in "It's a Long Way Back?" That they showed up for the wedding and the fact that Callie and the baby almost died was not even talked about. Parents are meant to show up for their children, especially when one of them almost dies. This story did not sit well with me.
Then to make matters worse, the minister's wife gets into a car accident and he cannot make the wedding which upsets Callie; for her it is the final straw. "There's not going to be a wedding" is what she says on finding out about the minister. Fortunately help arrives in the shape of Bailey who gives Callie a huge speech about commitment to the person you love and God and the law don't matter. They move the ceremony outdoors, and Bailey officiates.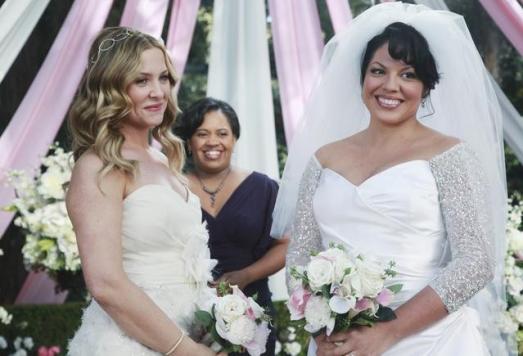 Callie and Arizona Say "I Do."


Meredith and Derek's Wedding
Derek and Meredith tie the knot at City Hall. Recently Derek and Meredith discussed adopting six month old Zola from Africa, whom Alex had arranged to come to Seattle Grace for a much needed surgery. Apparently for Derek and Meredith to be successful in adopting this baby, they needed to get married. Perhaps this had something to do with the overseas adoption process, however I thought it was lame, because single people adopt and gay couples do too. In any case, a quickie wedding appointment was made at City Hall where Derek and Meredith made it official.
Their ceremony took place at the same time as Callie and Arizona's. While MerDer fans are over the moon that their favourite couple have made their union legal; the post it wedding will always hold the sentiment in most of our hearts. That day in the residents lounge will stay in my memory forever and when Derek and Meredith fall on hard times, it will be the 'post it' they refer to. And fans will see this happen in Season 8.
Meredith and Derek go back to the hospital on their way to Callie and Arizona's wedding reception to visit Zola. They don't make it to the wedding in the end as they can't tear themselves away from the beautiful baby that could be their daughter. Derek cuddling Zola was one of the cutest scenes we've seen in a long time. The chemistry between Patrick and the baby is awesome. I could watch it all day.

Derek and Meredith make it Official at last
Arizona and Callie fans claimed they would have loved to see more of the wedding and that the episode contained too many stories. The African children that Alex Karev brought over for much needed surgeries arc took up way too much of the episode. Then we had April's drama with Dr Stark (who I won't be sorry to see go). And then we had Meredith's dramas with the adoption social worker and freaking out about Alex opening his mouth to Derek about the Alzhiemers trial.
This, to me as a long time fan was disappointing. Alex and the African children was a genius storyline and showed us the softer side of Alex even if his motives are about winning Chief resident. It's like Arizona says in episode 14, "I'll teach him to be less of an ass, but I don't have to teach him how to care." So it was frustrating that we did not get to see more of this story arc because it was great an could have been developed further.
Many fans felt as though the last three episodes were overloaded with too many story arcs. Perhaps Shonda Rhimes should have stuck with the usual plan of writing twenty-four episodes instead of only twenty-two. Obviously there was a good reason for this, perhaps the network had other commitments and Shonda wasn't informed early enough, so quite a few ongoing story arcs had to be crammed into the final few episodes. The scripts are written way in advance and Shonda usually always pitches the end of the season before she even starts writing the beginning.
Unfortunatley the wedding of Callie and Arizona was not enough for the die hard Calzona fans, especially after all these two wonderful women went through to get to their happy day. It's true that less is more, but there was not enough. It all seemed rushed. And in the final two episodes we barely see Arizona and Callie together, it's as if we are to assume that they are happy, giddy newly wedded brides. Calzona fans would have loved seeing that happiness, especially after all they went through in the past year.
Arizona returns from Africa
The reason for this was obviously was to set up the finale, which will concentrate on the loves and lives of the three originals: Meredith, Cristina and Alex. Because next season is when their contracts expire, the focus will be placed on these characters in Season 8.
To read more about Grey's Anatomy visit
Janelle Coulton at Suite101
Copyright 2011; Janelle Coulton.