RIP Mark "McSteamy" Sloan
The lead up to the Season Premiere last week was fraught with a lot of talk about who would make it out of the crash and who would not. However, when Grey's Anatomy went to air in Australia last night, we began with a time-jump three months into the future.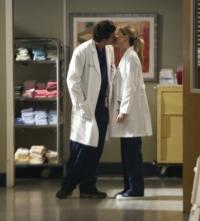 Viewers all over Twitter and forums last week and last night were confused to say the least given the huge cliff-hanger left by the plane crash in the Season 8 Finale and many fans would have expected the show to pick up where we left off, where our favourite doctors were still stuck out there in the woods. Given that after the finale last season, Shonda made a big deal of the fact that they are still out there, you would think she would start off the season with what happened out in the forest. Now Shonda gave an interview in July explaining the time-jump of three months and that episode 2 would go back to what happened out there. However if you are a fan who does not read spoilers, articles and interviews about your favourite show then watching the premiere would have left you feeling confused. At least when I sit down with my daughter in 10 days time to watch the first two episodes, I can explain to her what's going on.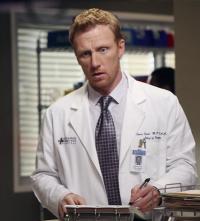 Owen Hunt looking very lost
Anyway, apart from the first few moments of confusion, overall the premiere was pretty good. The tribute to Mark in his dying moments when they took him off life support was lovely. Mark had a living will requesting that if after 30 days there was no hope of recovery then all life sustaining procedures had to be ceased. The video that was supposed to be Derek's wedding to Addison was a little laughable given Patrick and Eric's ages, however Shonda did her best. It was funny given that I remember Eric Dane in Charmed and he did not look like that and that was less than 10 years ago, not 18 years ago as the 1994 date suggested. However it was one of the nicer tributes for a character that I've seen on a drama series in a long time. That being said, many fans are criticising George's send off, and I cannot understand why. And I also heard something ridiculous about Shonda Rhimes getting death threats on Twitter after McSteamy died on Grey's Anatomy. It's very hard to understand how a person could rationally do that; I mean it's a TV show.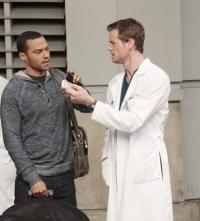 McSteamy and Avery; the Plastic's Posse
Mark Sloan will be missed terribly on this show. His smile, his humour and not forgetting that the man was hot! Many long time Grey's fans will miss seeing Mark's steamy love scenes. And it does not matter how hard Shonda tries with her other sexy cast members; McSteamy was one of a kind.
While most of the episode was centered around Mark's death. We were also introduced to new interns who Meredith Grey has managed to terrify, so much so that she has been dubbed Medusa (which I loved). Some fans saw the nickname as an insult, but I don't. It would also seem that Meredith and Cristina are having issues with flying; neither have been able to get on a plane. It's hard to imagine how this would feel. Cristina is at Mayo clinic and it would appear that she is unhappy there, so let's hope that means she comes back to Seattle. If not for Meredith and Alex, but for her marriage. Pictures and sneak peeks would have us believe otherwise. Photos from episode three show Cristina still at the Mayo clinic. I think that it's only a matter of time before she returns.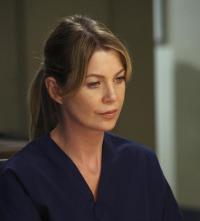 Medusa aka Meredith Grey kick ass Attending
Patrick Dempsey and Sara Ramirez totally knocked their acting for six. I thought every one of their scenes were terrific. And towards the end when Mark died; Patrick and Sara really brought it; it was not overdone, and totally believable. It's looking like these two will be friends this season although it probably is a little too early to make that kind of prediction. I do think that Derek won't be operating for a while, if ever. He may end up teaching which has been alluded to in the spoilers and would give Patrick Dempsey the time off to race or work on movies. I think we will see him in most episodes, however we just may not have as much Derek on our screens as before. This may not make the MerDer shippers happy; but quality is better than quantity and if Patrick and Ellen get some decent stories this season, then fans should be satisfied.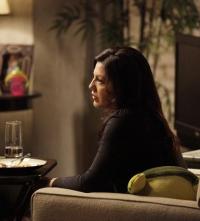 Callie Torres has a hard road ahead
Alex and Jackson look like they are staying. When the show opened it looked like Alex was set to go to John's Hopkin's as planned last season, however after he met the new peds attending, it was clear Alex had a change of heart. At the end of the day at the airport; Alex decided to stay and found Meredith in the bar talking to Cristina on her Ipad. He apologised, and all was well. Alex asked Cristina to tell Owen he is staying at Seattle, Cristina is very confused until Alex explains that he saw Owen at the airport. Next we see Owen and April leading a pig out of a barn. Geez Shonda I didn't even miss her until that scene; not once did I wonder where she was, yet I missed Teddy and Lexie. I kept hoping to see Lexie pop up in one of the Mark flashbacks, but I guess they could not use any footage or photos of Lexie for legal reasons.
And lastly can I just mention "Booty Call Bailey" I did not like this. It's almost as if Shonda has stripped Bailey of her hard-core surgeon persona to this new person who the interns make fun of. I hope Bailey brings back the Nazi very soon. Don't get me wrong here; Bailey can have a fiance' and a love life; but Bailey running around in and out of on-call rooms just goes against the reputation she built for seven seasons.
All in all it was a great episode, probably not as good as last year's premiere; but good. I still wonder whether showing what happened out in the woods in the first episode would have been better. I guess I can't know that until I watch on Friday afternoon or on Tues night here in Australia.
What did you think of the premiere of the ninth season of Grey's Anatomy? Is it time the show was put to bed or is it just getting better? Sound off in the comments or have your say on Facebook or Twitter.
To read more about Grey's Anatomy, visit:
http://janelle-coulton.suite101.com
Copyright © 2012 Janelle Coulton