Comfort Zones are Tested
So; Meredith is delivering babies and using Lexie to chase a difficult brain tumor that she is certain Derek won't want to resist. At first; the previews and synopsis lead us to believe that because Meredith has been black-balled from most of the attendings surgeries, that she is chasing this tumor for her own gain. Perhaps she is hoping that Derek will see this tumor and ask her to come back to his service, which she left in episode three for the sake of their marriage. They have also made an agreement not to discuss Neuro. Within the first few minutes of watching I realised the beauty of what Meredith is doing; oh yes, this woman knows her husband, but more on that later.
Callie, Mark and Arizona are all great friends now, however Mark and Arizona's budding interest in cooking for Callie is wearing thin on their relationship as they are not getting any time alone. But for the moment Callie is trying to be happy that Mark and Arizona are finally good friends and keeps her mouth shut.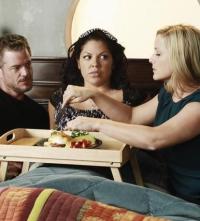 Pink Vagina Squad Scrubs
Meredith is running around the hospital in the pink scrubs delivering babies and kidding herself that she is doing something worthwhile. Alex thinks she's working as an OB because she misses Zola, however as she tells Cristina during their meeting with Chief Hunt "I'm making life you know." I like this storyline; Meredith's career being in a lull for awhile is a good direction given what she did when she destroyed the clinical trial. Cristina tells Meredith that she cannot wear the pink scrubs in public, "We have standards Meredith." At the same time Cristina is sending sexy text messages to her husband. What did I say last week? These two are never going to talk by the looks of things, Cristina would rather bury their issues and have sex and it seems as though Owen's not complaining. Owen has just finished lecturing the group about bad outcomes in their OR's and how these bad outcomes can affect their boards later on. In-fact it is because of this lecture that Cristina and Alex both stuff up during their surgerys'.
Later on when Cristina is discussing a case she is on with Callie, the issue of hot, dirty sex comes up and Callie confides that her and Arizona are not getting enough alone time. She admits that she's jealous of Cristina. The bringing together of Callie and Cristina was great and way overdue. I have missed the friendship between these two. If we think back, they were room-mates for quite awhile. In the OR when Cristina's phone goes off and Callie insists that the scrub nurse read the message aloud in case it is urgent, Cristina's obvious panic when she tells the nurse not to touch the phone, but to turn it off is hilarious.
Derek complains to Owen about Lexie, she is not cutting it as his intern. Lexie asks Meredith for help, but Meredith tells her that she has to learn his quirks, and she needs to learn on her own. Derek is frustrated and probably regetting agreeing to Meredith leaving his service, however at the end of this episode, it is clear that her decision is best for their marriage. Lexie tries to get Derek to see her tumor patient, however Derek refuses saying the tumor is inoperable and that Lexie needs to do what he tells her, so Lexie gives up. Meredith confronts Lexie naked in the shower and explains that Derek needs to see the scans and meet the patient. So the next day Lexies shoves the scan in his face saying "Butterfly tumor!" Derek looks at scan and the next thing we know they are consulting with the patient. Derek orders new scans be run, and when they come back he tells Mary the patient; that he can remove the tumor. It's risky, but he thinks he can get it all. Mary's husband freaks out and says No. Meredith tracks him down later on and convinces him to let his wife fight for more time with her family. So no thanks to Lexie, this surgery happens and it turns out to be successful. For the first time this season with the exception of episode 1 and 2, we were treated to an emotional case in which we got to know the patient and their story.
Derek and Lexie meeting with Mary and her husband and Derek after a difficult surgery
Unfortunately Cristina and Alex did not do so well. They were both so afraid of getting bad outcomes that they put their fears first and the patient's well being second. Cristina constantly nagged Callie to do a more conservative procedure on their neck patient, and Alex refused to do a TAVI on his heart patient. Cristina became so freaked about the neck surgery that she asked to be taken off the case. All goes well and the patient's neck surgery is a success. Callie lectures Cristina in the scrub room after the surgery, simply telling her not to let fifth year get to her. Alex on the other hand ends up getting kicked off his surgical case. His patient going over his head to Teddy and asking her to look into doing a TAVI on him. Alex did not put his patient first when researching options for the procedure, Teddy obviously decided that the patient was a good candidate for a TAVI and chose to do the procedure. By the way, did anyone recognise the patient, it was Lee Majors, probably most famously known as the 'Six Million Dollar Man' in the seventies. He's still looking good.
Teddy and Alex talking to their heart patient and Callie and Cristina's neck patient

Hot, Dirty, Stand on my Head Sex
Given Cristina and Owen's obvious issues regarding the abortion, obviously now is the time to sex it up and sex it up they did, getting caught by the ex-chief twice. Anyone get the feeling Webber was feeling a little nostalgic about his younger days getting in on with Ellis Grey. I did; maybe that's my overactive imagination. When Meredith asks if they are talking or just having sex, Cristina says "Who cares if we talk." Meredith can't help but ask if Cristina really does stand on her head and Cristina answers "I'm very talented." As nice as it was to see them getting along for all the Crisowen fans and shippers, I hate to be the bearer of bad news. Make the most of their short lived happiness because certain events will cause their marriage to go to a very dark place.
And I can't end this review without mentioning Bailey and April. I am starting to get fed up with Bailey's cranky mood, and April; while I am still not comfortable with her as Chief resident, she is certainly getting some of the residents to listen to her. Forcing Meredith to work on the diabetes trial was classic, however I don't think it took much to convince Meredith to do it, she loves a challenge and when Bailey discovers that Meredith is doing April's work, well she is furious, however after Meredith imploring that Bailey read her research, Bailey pages Webber to tell him that some of the mice are sick and Meredith Grey figured it out, unaware that Webber and Meredith are working behind her back. Webber sends her home telling her not to worry, that help will turn up. I am also less convinced now that there will be a romance with Alex and April after their interaction over Alex covering the ER and I have to say she successfully put Lexie, Jackson and Alex in their place later on at Joe's Bar, so perhaps April needs time, she does do the funny so well however, and I would really like to see more of that.
So Meredith ends up with a happy husband who almost wants to break their rule and talk about his day, however Meredith knowing better; discourages him and they start making out instead. Looks like this marriage is back on track; finally. So Meredith's goal was marital harmony for her and Derek and given they are trying to get Zola back, she is behaving like the smart woman we know she is at the moment.
Alone and together at last
Callie arrives home after a successful day at work with beer and pizza. Mark and Arizona have just finished making dinner, but Callie dumps the dinner in the bin and nicely tells Mark to beat it. She tells him he's babysitting so that she and Arizona can eat pizza, drink beer and talk about Callie's surgery and have sex, not necessarily in that order because Marks gets it and leaves and as soon as he does they start making out.
Cristina meets Owen in the ambulance bay where he informs her that they can't have sex in the hospital anymore. She says "Whatever." Owen suggests they go get dinner, which suggested to me that he wanted to talk; however Cristina's suggests they go home and have sex, Owen agrees. The opportunity was there for them to talk; obviously they don't want to. Oh dear.
Derek and Meredith happy together finally
Highs: Derek and Meredith being in a better place now. Cristina's quote "Hot, dirty stand on my head sex." and then "I'm very talented." She truly does get the best lines and I know I say that every week but it's true.
Lows: Cranky Bailey, she and Meredith need to make up now.
Yet another great episode, Season 8 is looking very good and given that I know what's coming up, my advice is not to miss this season, as Shonda and her team of writers are doing a great job. Grey's creator Shonda Rhimes usually pitches the season finale to the network before even writing the first episodes of the season, however this year she is in a different situation. Shonda Rhimes has actors who contracts are up and she is in a difficult position of having to write a season finale without knowing the fate of six characters. How does one do that?
Coming up next week Grey's brings more of the funny with the docs playing Softball. Cristina gets a surprise; and Meredith and Bailey face off. Don't miss "Put me in Coach." Thursday, 8.30 pm, 22 March 2012.
To read more about Grey's Anatomy, Please visit me at http://janelle-coulton.suite101.com/
Copyright © 2012 Janelle Coulton