A Hard Day's Night - Grey's Anatomy Pilot
Grey's Anatomy first aired in the US on the 27 March 2005 as a mid-season replacement for the highly acclaimed, and popular Boston Legal. Initially fourteen episodes were filmed; however only nine were screened in the US. ABC Executives decided to end the season at the same time Desperate Housewives finished. In the UK the entire fourteen episodes were screened and released on the Grey's Anatomy Season One DVD. The show was a hit in the US after the public saw the first nine episodes and fans could not wait to see Season 2 (Wikipedia).
The debut episode opens with Meredith awaking alongside a naked; hunk of a man, where she place a cushion over his naked ass. Whilst stumbling around collecting her clothing, he wakes up and pulls on his jeans. Meredith realises she doesn't remember his name so they introduce themselves. She heads up stairs for a shower, telling Derek he can't be here when she gets back as she is late for her first day at work. When she arrives at work, she finds out that Derek is her boss and teacher; Dr Derek Shepherd aka "McDreamy."
Meredith narrates:

"The game. They say a person either has what it takes to play or they don't. My mother was one of the greats. Me; on the other hand, I'm kinda screwed."
The first episode aptly titled "A Hard Day's Night." depicts Meredith and her fellow interns first fourty-eight hours as real surgical interns. Each episode opens and closes with a monologue usually spoken by Meredith, not unlike the character of Carrie Bradshaw of the show: Sex and the City. The first monologue spoken by another character was T. R. Knight; Dr George O'Malley in Season 2; What Have I Done to Deserve This?
The day begins with Meredith meeting Christina Yang, Izzie Stevens and George O'Malley who all end up being assigned to the same resident; Miranda Bailey aka "the Nazi." We also meet Alex Karev briefly, however we see more of Alex in the coming episodes. The character of Alex Karev was originally not going to be seen in the first episode. His first scenes were deleted, however for some reason Shonda Rhimes, Grey's creator and head writer changed her mind.
Meredith's first patient turns out to be a young beauty pageant contestant, named Katie who keeps having siezures for what seems like no good reason. Meredith first runs into Derek when he is assigned to Katie's case, (as he is a neuro-surgeon) and Meredith's reaction was to disappear into the stairwell, where Derek follows her and an argument ensues between the two about the sex they'd shared the previous evening. Derek asks her to go out with him again, but Meredith refuses, saying that dating him would be inappropriate.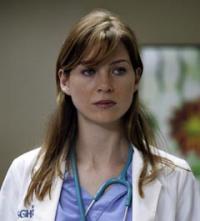 Meredith and Christina end up bonding when they agree to work together on McDreamy's case, to try and solve the puzzle of Katie's constant siezures. Their efforts lead Dr Shepherd to run an MRI and a brain bleed is found to be the cause. A bleed so tiny; it was not caught on the CT Scan. Meredith is chosen to scrub in on the surgery, much to Christina's disgust; as Meredith had said she did not want to be in on the surgery, but Dr Shepherd persuades her to scrub in, because she deserves it as she has been looking after his young patient from the start. Christina is pissed and accuses Meredith of being a shark.
The episode ends with Meredith visiting a woman at a nursing home and telling her about her day. This woman turns out to be Dr Ellis Grey, a world famous surgeon and twice winner of the Harper Avery award, and she is Meredith Grey's mother.
Later on Meredith scrubs in with Derek to watch him fix Katie's brain bleed. Christina watches from the gallery. Afterwards she comes down to the OR floor and sits next to Meredith, they talk briefly and make friends again.
Meredith narrates:

"I can't think of a single reason why I should be a surgeon, but I can think of a thousand reasons why I should quit. They make it hard on purpose. There are lives in our hands. There comes a moment when it's more than just a game, and you either take that step forward or turn around and walk away. I could quit, but here's the thing. I love the playing field. The other interns; they're good people, I think you'd like them."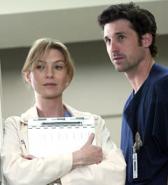 Meredith and her McDreamy
This was an awesome pilot for the debut of a new medical show. No wonder this show is into it's eighth season. Grey's Anatomy creator, Shonda Rhimes wrote a brilliant story here. It's dramatic, emotional and funny, hilarious actually. The title "A Hard Day's Night" really fit with what we were seeing and I am also a longtime Beatle's fan. I didn't start watching this show regularly until Season 3, and I did buy any of the DVDs until I'd seen most of Season 5. So when I sat down to watch Season 1 and 2 which I'd missed quite a few episodes, the idea came to me to start this blog. Eighteen months later; and here I am! Most of this blog contains stuff about Grey's that most die hard fans already know. Although I watch online once the show has aired in the US, I try not to spoil the fun for my readers in Australia. However once you get online and starting searching for Grey's Anatomy, you are bound to come across many spoilers.
Highlights were Derek telling Meredith that she shouldn't let the fact they had sex stop her from taking her shot, and Christina and Meredith making up after the surgery. The only low point or criticism was when Meredith took Katie for her scan and got lost. Izzie should have taken Katie for the scan; and got lost, this scenario would have been more believeable as Meredith basically grew up in that hospital, whilst her mom was operating or whatever else surgeons do. In Episode 23 of Season 6; Meredith went on and on about how she learnt to read in the OR Gallery, and played in the morgue, and the list goes on. My point is Meredith would have known every square inch of that hospital....Izzie or even George should have been chosen for that scene.
To read more about Grey's Anatomy visit: Suite101 JanelleCoulton Articles
Source: WikipediaGreysAnatomy
Photos Source: tvfanatic.com and fanpop.com for the photographs.
Relive the Memories: Get Seasons 1-7 From Amazon



© 2011 Janelle Coulton