Season 8 of Grey's Anatomy in mine and many fan's opinions' totally kicked ass over Season 7. The general feeling from the first nine episodes was that the creators were well aware that they may lose some of their major players; the six original stars whose contracts were up at the end of Season 8.
This is most likely why most of the focus was on the original characters: Meredith and Derek, Cristina and Owen, Alex, Richard and Bailey. In the first couple of episodes the focus was squarely on Meredith and Derek's marriage and story with Zola's adoption. Cristina's story arc was focussed more on her career, rather than her personal life, with Shonda saving Owen and Cristina's drama for the later part of the season. Callie, Arizona and Mark were mostly back stories throughout the first few episodes. Richard and Bailey also took a bit of a back seat, with Bailey being portrayed as very angry and upset until sorting out her differences with Meredith in Episode 8, Heart Shaped Box. This annoyed many Bailey fans, as they had to sit through many episodes of her being less than happy. However we all know Shonda Rhimes does not do happy.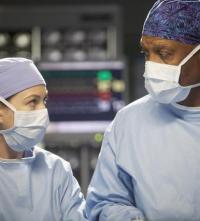 Meredith and Richard
Season 7 also started out well; however the time jump of a month after the shooting upset many fans. I was on the verge of forgiving Shonda as the first half of Season 7 was pretty good until the Callie, Arizona, Mark triangle. So many fans hated this story arc mostly because it was such a cliché. This seems to be typical of Shonda Rhimes and her team of writers, however the focus on most of the original characters in the first half of Season 8 for me; all was forgiven. It just seems as though Shonda and her writers start out so well, and then don't bring the good stuff at the end. Her finales are always well written and entertaining, however the huge tragedy endings to the season are getting old. Season 7's finale was actually a refreshing change and yet still a cliffhanger that kept all of us wondering for four, long months. As a fan, I loved it.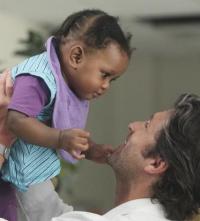 Never get tired of seeing these two
Baby Zola was the cutest and the scenes with Meredith and Derek were so adorable. The first two episodes where they lose Zola was heart breaking and I didn't expect it to happen so soon, I was expecting trouble with Meredith and Derek's marriage and the adoption process, but it was a shock it came so soon and that baby Zola was given to them about three months later according to Shonda's timeline. That seemed a little fast for an adoption, however I know nothing about the process so who knows?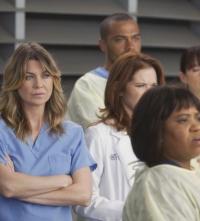 Meredith is so pissed at being fired
Meredith's firing came as no surprise; it's what should have happened in the circumstance and very real; however Chief Webber stepping up to take the blame kind of threw me for a loop, I was not expecting that, I was actually expecting Alex to step in; in what capacity I do not know. Then when Dr Webber resigned as the Chief of Surgery, basically firing himself; Derek and Meredith's marriage seemed to be in all sorts of trouble and Derek's 'holier than though' attitude upset many fans. It almost seemed to me that Shonda was trying to create dislike for Derek amongst his fans, should Patrick Dempsey decide not to re-ink his contract, because at the time he was misquoted as saying he was not coming back in Season 9; however as it stands right now, all the original cast have signed new contracts for two seasons.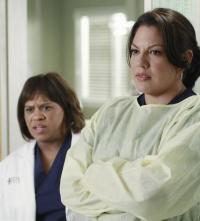 Bailey and Torres Supervise a Gunther
The Gunther was the best part of the Season Premiere, it was the funniest thing I've seen on TV in a long time; especially the part with Cristina and Alex when Cristina accidentally stabs with a syringe in the OR and he codes. Alex yelling "You Crazy Bitch!" "You almost killed me!" at Cristina was hilarious, best scene from episode two, by far. And when Alex helps Meredith after her and Derek lose Zola was beautiful. I was in tears when they walked out together.
April never quite got the hang of Chief Resident by the mid-season hiatus she was still struggling. However by season's end I guess I got used to it. All the other residents still gave her trouble no matter what she did, however who could Owen have chosen realistically? Not his wife, not Meredith (after what she did with the trial), not Alex after he narked on Meredith, not Jackson who walked away from Dr Webber's trial. So April with her checklists and procedures was the logical choice. Even in the OR in Suddenly, Episode ten when Cristina bags her out to avoid talking to Teddy about Henry; she lets it go and takes orders from Cristina later when the surgery is done. A Chief Resident does not do that; Bailey would not do that.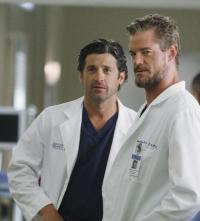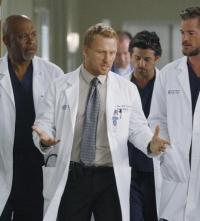 Derek, Mark, Webber and Owen after he punched someone
Meredith and Derek finally make it back to each other and a happy place, no matter what happens with Zola. However; Cristina and Owen are avoiding the fact that she has just aborted their child and this story arc continued on through Season 8; with no resolution. Meredith's solution to saving her marriage is migrate over to OBGYN for a while, and not work with her husband who says he cannot trust her. She thinks that she is enjoying delivering babies and making life however, she is really marking time trying to figure out what kind of surgeon she wants to be.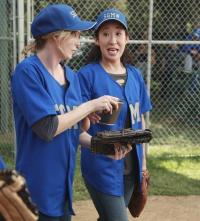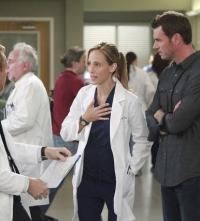 In Put Me In Coach Meredith gets a dressing down from Bailey and Webber and she ends up on Bailey's Diabetes Trial, even though she was working on it in secret the whole time. Webber tells her to get out of those ridiculous pink scrubs and get back to the work you were born to do; being a surgeon. He forces Bailey to put Meredith on the trial, and in Hope for the Hopeless; the halfway mark of the season, she decides to be a General Surgeon like her mother and Chief Webber who is already her mentor anyway. Many fans were against this choice and were hoping to see her working with Derek, including myself; however I got to like the fact that Meredith was forging a career of her own instead of being in Derek's shadow, which is what would happen if she'd stayed working with her husband as he is the famous neurosurgeon on the show.
So when all is said and done; I felt that the first part of Season 8 was excellent. I felt that Shonda and her team were really giving their all, however as you will see in my next post: Part Two of my Grey's Anatomy Rant; my opinion is less than flattering. Part Two will be posted in a few days.
Best Scenes: Teddy and Cristina in Suddenly when Cristina breaks the news about Henry.
Alex and Cristina in She's Gone - all their scenes.
Meredith and Derek's reunion with Zola in Suddenly.
Best Quote: Alex's "You Crazy Bitch.....etc."
Meredith's speech to Owen about Cristina wanting kids.
Worst Scene: Owen's confrontation with the patient in What Is It About Men?
Shonda and her writer's really rocked it with the first half of Grey's Season 8, however the closing part of the Season did leave a lot to be desired. However I will discuss that in my next post. Thank you all for reading.
Until then; have your say in the comments or connect with me via Facebook or Twitter
To read more about Grey's Anatomy: Please visit me at:
Janelle Coulton@Suite101
Get your copy of Season 8 at Amazon
Copyright © 2012 Janelle Coulton