Less than 72 hours have passed since the news broke that filming has begun on the Grey's Anatomy set; the gossip has started flowing thick and fast.
It's hard to believe that Season 9 will begin in the US in just over two months time and yet we are still three episodes away from the Season 8 Finale here in Australia. Many of you who regularly read my blog already know what's coming for our beloved doctors, but for the sake of my readers who want to remain in the dark about coming events, I will keep this post spoiler free.
However; when Season 9 begins in the US, this blog will be one huge spoiler for some of you. So if you don't want to know, then don't read it or do what I do; watch Grey's online or download it.
Anyhow, getting back to the purpose of this post; the gossip and spoilers flowing from the Grey's Anatomy camp and the actors have only been back at work for one day. Someone accidentally on purpose tweeted a picture of table read that they shouldn't have. Shonda Rhimes tried to direct everyone's attention to a Patrick Dempsey picture that was also tweeted at the same time. And now there news from the Grey's Anatomy camp that a new character will be joining the show. Apparently this female character will be a new intern. This news comes directly from The Hollywood Reporter, and I'm reasonably sure
their sources are
reliable; but didn't Shonda recently tweet that no new characters were being added? And why on earth would we want an intern on
Grey's,
especially when the storyline is most likely going to be about our original interns and their journey forward as attending surgeon's about to undertake their fellowship studies'.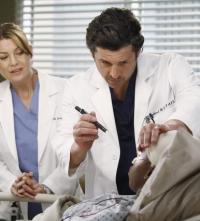 The Hollywood Reporter
also reported that this new actor will play a recurring role in Season 9 and has been offered a regular spot on the series come next Season; I'm assuming this means Season 10 and that depends on whether ABC pick up the series for Season 10. Speculation is rife that she is a love interest for Alex; which is well overdue in my opinion, but the cast is too big to begin with, so why add another series regular. When Season 8 came to a close in May 2012; it seemed clear to me and many other fans that Shonda was cleaning house, however it would seem there is room for another character, but an intern? I just can't see how that is going to fit with the current storylines and characters.
There is also speculation that Adele may die given the severity of her alzhiemers and how quickly she seems to be slipping away from Richard (her husband). However Shonda also said that she was looking forward to revisiting Adele's story come next season, which leads me to believe that she is not going anywhere. Many fans also believe that someone may die in the opening episodes of Season 9; however I can't see it. It wouldn't really make any sense and would seem like an easy out for someone who perhaps did not want to continue on.
All we really know for sure is that most of the cast will be back for Season 9, or we really wouldn't have this TV show, so I'm content to wait and see what September brings us when Grey's returns to US screens and if I'm not mistaken that is going to happen in less than two months.
To read more about Grey's Anatomy, Please visit me at: JanelleCoulton@Suite101
Copyright © 2012 Janelle Coulton