We are almost a week away from the much talked about musical episode. "Song Beneath the Song." Tomorrow night's episode is the lead up to this much talked about event. Arizona throws Callie a baby shower and Mark, of course sticks his nose in. Everyone is invited and Mark and Arizona fight because it would seem that Mark knows Callie better than Arizona does.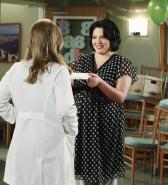 Callie and Arizona
The episode opens with Callie narrating:
"The brain is the human's body most mysterious organ. It learns. It changes. It adapts. It tells us what we see. What we hear. It lets us feel love. I think it holds our soul. But no matter how much research we do, no one can really say how all that delicate gray matter inside our skull works. And when it's hurt, when the human brain is traumatized, well... that's when it gets even more mysterious."
"Song Beneath the Song." starts where tonight's episode leaves off. The episode features most of the cast singing some of the music that has been used on the show since it began in 2005. Sara Ramirez, the actress who plays Callie Torres is the lead vocalist and what a hell of a voice this lady has. The episode is worth watching simply to witness her talent.
There are some cringe moments during the episode where you just feel like laughing, however after you have watched the episode a few times (like I did), the drama that Shonda Rhimes was trying to capture came off very well. It would have been just as effective without the musical element, however being a lover of music, and many of the songs on the show, I enjoyed it immensely. There were several moments where I was reaching for the tissue box.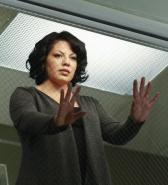 Callie, looking on from above
There is a scene between Derek and Meredith in the elevator that I just loved. It was possibly one of the most emotional scenes I have ever watched between those two. Addison Montgomery (Kate Walsh) makes a cross-over appearance from Private Practice to help out; it is a brief appearance, Addison was only seen in a few scenes and I don't recall her singing either. There was no narration at the end, which might be a first in Grey's Anatomy history.
In summing up "Song Beneath the Song." It was probably one of the best episodes of the season, definitely a stand-out, traditional, emotionally charged Grey's episode. We are not far away from the end of Season 7, believe or not. Stay tuned people because all of the events in the upcoming episodes of Season 7 are leading up to the finale, which screens in about five weeks time.
Jel
To read more Grey's Anatomy gossip and spoilers visit:
http://janelle-coulton.suite101.com/
Visit my
Website
Photos courtesy of TVFanatic.com
Copyright 2011 - Janelle Coulton