What To Expect on Feb 9, 2012
Season 8 of Grey's Anatomy will premiere in
Australia
in about two weeks; beginning with a double episode titled Free Falling and She's Gone.
Grey's Anatomy returned to US screens in September 2011 picking up a week after the events of the Season 7 finale. When we last saw our favourite medics, the proverbial "you know what" was hitting the fan in most of the characters' lives. So, without giving too much away, I will outline briefly what fans can expect when Grey's returns in February 2012.
Meredith and Derek:
Meredith was suspended for tampering with the clinical trial and Derek was not speaking to her. Unbeknownst to Derek, Meredith was given temporary custody of Zola, the African orphan they had been trying to adopt over the last few episodes. Meredith was frantically trying to contact Derek to let him know about Zola, however he did not answer the phone. Meredith takes Zola home alone and Derek camps out at the new house in an attempt to have some space.
Derek and Meredith with Zola
The repercussions of Meredith's deception are far from over. We return to Seattle Grace/Mercy West a week after the events of the Season 7 finale; Derek is still hiding out on his land; working on the house. He and Meredith appear to be sharing custody of Zola, and barely communicating. It's obvious that these two need to get their act together, however Derek is in his black and white frame of mind and McDreamy is being a McAss (to quote Meredith from Season 6 Episode 12). What is it with our Grey's couples and their inability to communicate? I really hope we are not going to see Derek's holier than though attitude for much longer. Derek needs to remember the post it vows and the fact that his wife does not see the world in black and white. Derek does have a right to be upset, but his anger is misplaced at the moment.
In the second part of the Season 8 premiere, there is a conversation between Derek and Owen that made me want to slap the guy and tell him to "wake up!" However he redeems himself a little in my eyes at the end of "She's Gone." when he defends Meredith. But it's also clear he blames her for everything that's happened.
Cristina and Owen
When Grey's wrapped in Season 7, Owen and Cristina were in an awful situation. Cristina discovering she was pregnant, Owen pressuring her to do what he wanted and Cristina deciding on her own to schedule an abortion. Owen reacted by kicking his wife out of their home. Cristina left and went to Meredith's house.
Cristina and Owen; facing an impossible dilemma
Having been thrown out by her husband, Cristina is living with Meredith and these two best friends are doing their best to help each other cope. Owen is not answering her calls or texts and is ignoring her at work. Cristina has not had the abortion and Owen does not know this. Things do not look good for these two. No matter what decision they come to, it is going to affect their relationship in some way. Shonda Rhimes; Grey's creator, does not drag this decision out. Cristina and Owen decide what to do before the end of the episode. However, the emotional fallout could play out for most of the season. Beware Cristina and Owen fans, this couple are in for a bumpy ride and so far this story has been beautifully told.
Owen came full circle with his emotions in this episode and was able to see the other side of the story. That inspiration came from his patient who was feeling awful about a fight he'd had with his wife and a speech from Meredith. Despite the fact that they were able to communicate and make a decision in the end, it is my feeling that Cristina and Owen are in real trouble.
Alex Karev
Well this guy has been kicked in the teeth six ways to Sunday. As angry as I am with him for narking on Meredith, the one person who really cared about him, I get it. Alex can't catch a break. Lucy took his job, which happened due to a lack of communication. Meredith kicked him out of her house and rightly so. Alex acted out of fear, he really wanted the Chief Resident job and thought he was going to lose it to Meredith. Meredith was never a contender in the end; Hunt had already chosen Alex, but after his outburst he lost the job to April Kepner of all people.
Cristina attacks Alex; what's that about?
So Alex is now homeless and living at the hospital, everyone hates him and he has Arizona telling him he is a pariah and to get his act together. He feels awful for turning on Meredith and it's obvious to everyone. Knowing that the Chief Resident job was his for the taking is bad enough, but his guilt over Meredith's situation is eating him alive.
April Kepner Winning Chief Resident
This is a joke. April is nothing like Bailey. But who else could it have been; seriously? Cristina was out, Jackson took himself out the running when he quit the diabetes trial, Meredith's dishonesty was exposed and Alex screwed himself out of the job.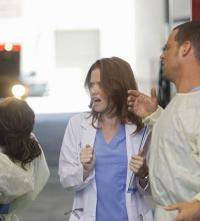 April's trying, but failing dismally
April Kepner has the organisational skills to be Chief resident, but her ability to get the other residents to listen to her is just not there, they basically ignore her. The girl needs a better storyline; and she needs to get laid. Fans in the US have said that she is doing well as Chief Resident, but I disagree. The other residents do not respect or see April as a leader and I doubt this will ever happen. She was unable to break up the fight between Cristina and Alex; Bailey had to step in.
An Angry Bailey, A Blissfully, Happy Teddy and Callie and Arizona are Finally Happy
Teddy returns with a happy positive attitude and tells Cristina she's done with drama, and puts her to work. This is strange given her attitude last season, but watch; it gets very interesting. Bailey is angry, so angry that we see her unable to speak or yell she is so angry. This is a side to Bailey we have never seen. After the fistula storyline last season, her character got pushed into the background a bit, so I'm hoping she will get a decent storyline this season. One clue I will give is her anger is directed at Meredith and this plays out for a while.
Callie and Arizona seem to be the only couple not affected by the events going on around them. All their scenes together were happy, no drama. And if you are a Lexie fan, well she didn't feature much in the first two episodes and she is not seen again until very briefly in episode five. This certainly didn't bother me, as I don't like her with Jackson. Their relationship is a lie, she loves Mark and should be with Mark and I'm not a Jackson fan. Perhaps he and April should get together, they are good friends after all. Jackson's arrogance annoys me, and he's boring.
Diagnosis
After watching these episodes I felt quite excited about Season 8. It was an excellent premiere, mostly dramatic and serious, however there were a couple of really funny scenes, particularly between Alex and Christina. There was also sadness, I gotta admit I cried a couple of times. If these two episodes are a taste of what's to come, then we are in for a brilliant season of Grey's Anatomy; Shonda Rhimes hit the spot. As you are all probably aware I have seen almost half the season, and it's brilliant so far, I just hope the writers don't run out of steam and keep producing excellence all season.
And as for the photo below; the answer is yes, Alex and Meredith make up and he comes to her rescue in one of the final scenes, and it is one of the saddest scenes I have watched on Greys in a long time.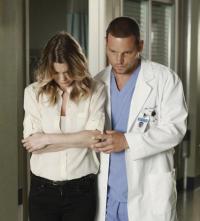 Highs: Alex and Cristina, specifically the scene in the OR.
Lows: Derek being a McAss